XP-Protector Help: Tutorial
Defining system policy (system restrictions) (4/7)
System restrictions (also referred to as policies or policy) are typically some values stored in Windows registry which define what user can or cannot do. XP-Protector allows you to define restrictions for individual users and save then to the registry + it adds some special restrictions not supported by Windows.
In the tree expand User settings and then Policy settings.

Click the category of restrictions you wish to edit
/or click the All settings item and search for restrictions you want to set.

For example, click Internet Explorer now and then right-click the Disable Internet options in Tools menu item in the list.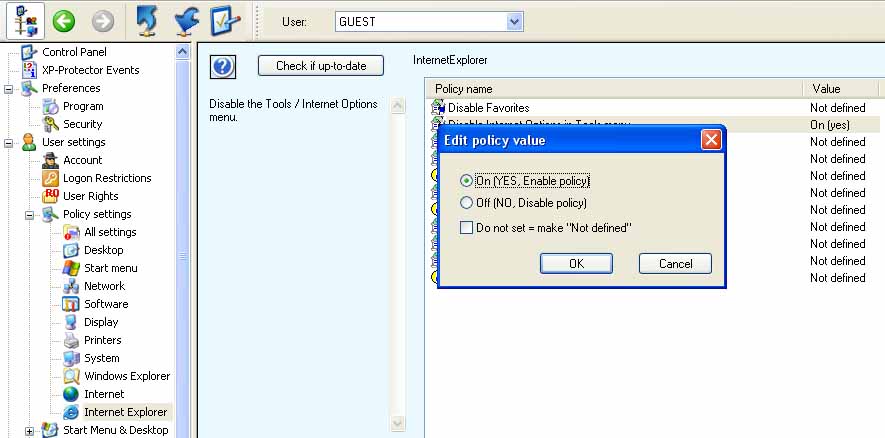 Each item in the list represents one rule (policy). When you click any item its description will appear in the pane on the left.

Typically setting policy value to "on" (enabling the policy) means that user is prevented from doing something on the computer. Restriction enabled => user's action disabled.

When done with setting restrictions for a user you can apply them to the registry right away by clicking the Apply restrictions button in toolbar. However, even if you forget to do this, restrictions will be applied when you close XP-Protector.


To check if all restrictions defined in XP-Protector are properly saved in user's registry (i.e. if they are in effect), click the Check if up-to-date button.

There are also some more restrictions-related commands available in the User menu:

Clear all supported policies - deletes all restrictions supported by XP-Protector from user's registry.

Save settings as template - saves restrictions of selected user as a template that you can later apply to other accounts with the Apply template to account command.