JShopper Shopping List
JShopper is app for Android mobile phones for managing shopping lists and for easier shopping.
It has many features which are not found in the other shopping list apps. It's powerful, flexible, yet easy to use!
The advantages of JShopper Shopping List
Simple and easy to use interface. No fancy stuff which just makes the app slower and wastes space on the screen.
Create shopping lists (grocery and anything else) on your phone or tablet.
Organize the shopping lists into shops.
There is autocomplete when entering items so once you enter something you never have to type it again. After a while preparing the shopping list is very fast - faster than writing it on a paper.
When shopping, the items are sorted in the order defined for the shop - so you shop from top to bottom of your list without running there and back in the aisles.
The shopping lists can be synchronized across multiple phones/tablets. So you can have a tablet in the kitchen for writing what you need to buy and do the shopping with your phone, with the shopping lists synced automatically.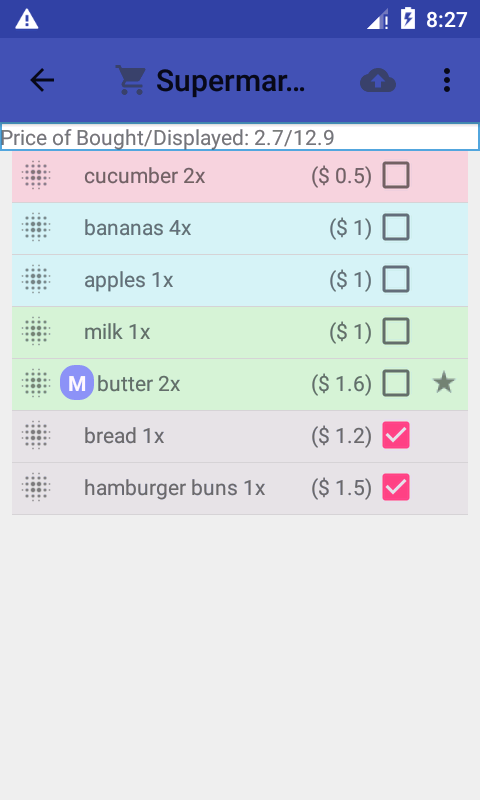 You can import shopping lists from any text, such as SMS or email, so if your mom needs you to buy something for her, she can text you or send you an email, no need for a smart phone. The import is smart, with suggestions for items it knows!
The shops can be in parent-child relationships, such as Supermarket with children Walmart and Lidl. You can put goods to buy in any supermarket to Supermarket and items you want to buy in Lidl into Lidl. When shopping you can see items from parent/children together in your list so you are free to decide where you'll buy them.
See the price of the items you bought.
You can share your shopping lists with others - it's easy to buy something for a friend or relative if you both use JShopper.
The Items on your shopping lists can have many options set such as
"on sale" tag, so that you know where to look for them
items which show up on the list later - so you can put them on the list now when looking at the offer for next Thursday and yet not see them when shopping on Monday.
private items which are not synced or shared.
If you wish to remove your JShopper account, you can do so from the application or you can use this form.
[Learn More]