Quick Start with Flash Synchron
This page provides quick introduction to using Flash Synchron.
To try Flash Synchro in few easy steps:
Download Flash Synchron from the web and extract the zip file to any folder (you can delete it after the installation).

Run the SETUP (.EXE) file to install and start Flash Synchron. It will be installed to your user profile only and started immediately. If the program does not start, start it from the Start menu. Main program window appears:


Plug your flash drive into the computer

If the file was not configured with Flash Synchron yet, nothing will happen. If this case click on the Manage synchronized items tab.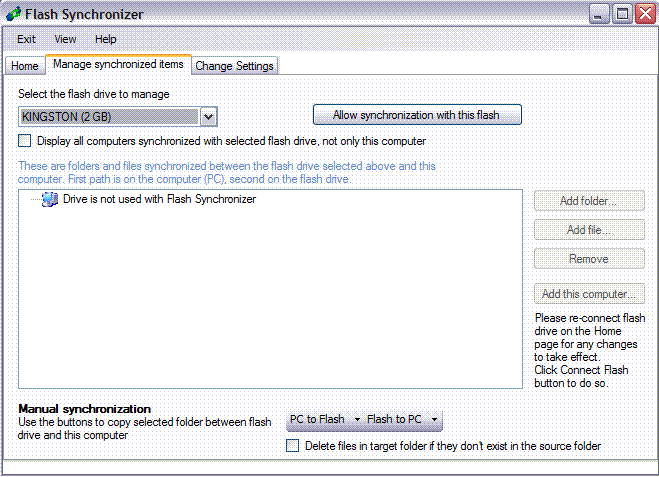 Next you will be asked whether you want to synchronize the flash drive with this computer. In most cases you will. But note that you can have different sets of folders and files on different computers synchronized with this flash drive and you also do not have to synchronize the drive with a certain computer at all.


Click on the computer name and then on the Add folder or Add file button.

First, you are asked to select folder or file on this computer which will be synchronized ("PC-folder"). Folder selection is shown in the example picture below.




Please note: The folder you select here will be directly used for synchronization. There WILL NOT BE a subfolder created with the same name as the "PC-folder". For example if you select C:\myfolder on your computer and then E:\anyfolder on the flash drive, the files from "myfolder" will appear directly in the "anyfolder" folder on the flash drive. Subfolder E:\anyfolder\myfolder will not be automatically created.
If you wish, you may create such folder in the folder selection window using the built-in Create new folder button.

The folder will appear in the list under your computer's name.

You can add as many folders and files as you wish. You can also repeat this procedure on different computers and, for example, synchronize files from folders located in different places on two different computers info one folder on your flash drive. The list of synchronized items may then look like this (note the "Display all computers..." box checked).

Click the Synchronize button to synchronize the files. See Synchronization rules topic in the Flash Synchron help for more information on the rules Flash Synchron uses to decide which files to replace or keep. After successful synchronization, there should be 0 items needing synchronization.